Writer: Girish Thakur
Succession planning is a focused process for keeping talent in the pipeline. All organizations can benefit from the principles of identifying crucial job skills, knowledge, social relationships, and organizational practices and passing them on to prepare the next generation of workers, thereby ensuring the seamless movement of talent within the organization. The convergence of the organization's needs and the employees' interests can occur in succession planning because of its wide scope and open process.
A well-designed plan will use objective, evidence-based assessments to determine the right candidates for the right role, and will involve multiple stakeholders, such as the role incumbent, their peers, and members of senior management team. Research done by a leading succession planning consulting firm found that 70 percent of organizations have a leadership bench prepared for continuity of a position, whereas only 30 percent have a bench prepared with options. Research done by Gartner found that only 27 percent of business units have the leaders they need for the future.
What is succession management?
Succession management is a deliberate and systematic effort by an organization to encourage individual advancement and ensure continuity in key positions, including management, technical and professional specialist roles. This process is also characterized by identifying high potentials and engaging them in an ongoing conversation to assess their motivating needs, skills, and career interests.
It is common for organizations to confuse succession planning with replacement planning. Replacement planning focuses on filling an immediate need for a specific critical role. There is less focus on employee talent development, as it is more of a reaction to a necessity. Succession planning looks toward the future, developing strong benches of succession candidates to provide a proactive solution when an unexpected loss of talent occurs.
To create flexibility for future leadership needs, HR leaders should develop agile succession processes that can better adapt to changing leadership skills and roles. A key to diversify leadership talent pipelines is to mitigate selection bias. HR leaders can effectively mitigate bias by introducing tactical interventions into their existing succession management processes to increase visibility of diverse talent and enable objective decision making.
The tools you need
HR leaders can use the 9-Box Talent Grid tool to support all areas of the succession planning process—from assessment and talent review to development and talent planning. It is one of the most utilized strategic HR tools. It provides a practical framework to facilitate talent management conversations. The y-axis of the grid indicates growth potential, referring to an individual's potential to grow within the ranks in a managerial or professional capacity. The x-axis of the grid represents an employee's current overall performance, identifying whether the employee is currently below, meeting, or exceeding performance expectations.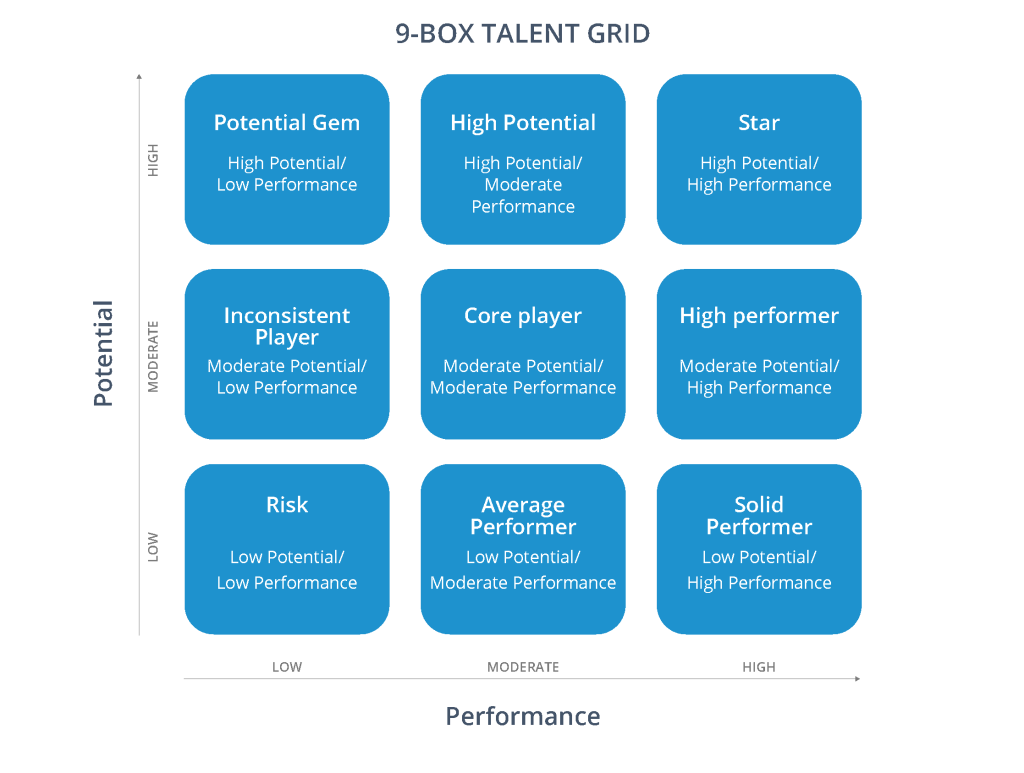 HR leaders should also do a trial run of succession plan, they should have a potential successor assume some responsibilities of a manager who is taking a vacation. The employee will gain valuable experience and appreciate the opportunity to shine and in return HR leaders can assess where that person might need some additional training and development. They should also integrate succession plan into their hiring strategy, once they have identified employees as successors for critical roles in the organization, they should take note of any talent gaps they would leave behind if tapped, this can help HR leaders to identify where to focus their future recruiting efforts.
A centered approach is key to success
HR leaders should choose a centered approach to put the people involved—both the leaders managing the process and the successors who are being considered—at the center, supported by processes that help decision-makers maintain objectivity. Research by Deloitte found these reasons to be a hindrance in embracing a centered approach:
Self-preservation
Short-term thinking
Reliance on subjective opinion
Lack of accountability.
The consistent and common thread in these reasons is human behavior. For incumbent leaders and their organizations to practice centered succession planning, it's necessary for them to embrace the accountability and advocacy for succession planning processes and outcomes, and plan for the organization's future, not just current leadership needs. They should have the discipline to pursue long-term outcomes even if they seem to address less-immediate business needs and cultivate transparency and trust in the system throughout the organization.
Most companies fail—but they don't have to
Research done by a transition management consulting firm has found that experience-based learning is more effective than classroom training in preparing potential candidates to fill future talent gaps. HR leaders should incorporate strategies for learning, training and development into succession planning and management processes. Another study by Deloitte & PWC found that 86 percent of companies fail at succession planning. According to PWC, "Implementing a succession planning program is no different than the rollout of any other corporate initiative, requiring a focus on change management, communication and cultural alignment that must be actively managed."
Companies must ensure that succession planning is linked to other talent management processes and practices, including job titling, training, compensation, learning and development, rewards, and recognition. Some key metrics used by companies to monitor and evaluate the performance of their succession planning efforts are:
Reduction in the cost of turnover
Percentage of key vacancies filled by internal candidates
Number of successful promotions.
Some companies also use employee surveys to identify the engagement levels of high performers as well as others to gauge how they feel about the company's career development efforts.
Easy in theory, hard in practice
According to Deloitte, the holy grail of effective succession planning turns out to be surprisingly obvious but unsurprisingly difficult: It is essential to balance empathy and attention to human factors with objective decision-making and organizational discipline in order to see the process through. The hard part is to encourage the leadership team to think and act in ways that enable the organization to achieve this balance. An understanding of human behavior can hold the key to successfully enlisting the vital stakeholders in the effort to identify and develop those who will follow them. Whether it is addressing the anxiety of incumbents, motivating them to train potential successors, prompting them to plan for the future, or winning their trust that the whole process is worthwhile, how well an organization handles these very real human factors will have a significant impact on its ability to effectively find and develop its next generation of leaders.
Succession Planning in Nakisa Hanelly
Current state of succession planning feature in Hanelly
HR leaders can assign a successor to a position from the org chart and position details panel. They can select attributes such as ranking and readiness during this process.
HR leaders can add an employee to a succession pool from the org chart and employee details panel. They can select attributes such as ranking and readiness during this process.
HR leaders and leadership team can also visually compare different succession pools on succession pool comparison page. They can also customize these views using employee view designer in Hanelly. This succession pool comparison page gives high level view to stakeholders about the depth of bench strength in each of their talent pipelines.
Evolving succession planning feature in Hanelly
Talent ID pools – Managers will be able to see their own direct reports and will be able to add or remove employees in different talent pools. They will be able to view additional employee information such as potential, performance, critical resource, risk of loss and attributes such as ranking and readiness. This feature will be based on the premise of talent bench review tool used in succession planning. It will enable the managers to take a closer look at the bench strength, including who should be developed, who should be groomed for leadership, and, in some cases, who should be moved to another role.
Contact our team of experts today to discuss your succession planning use case, and how Nakisa Hanelly can help you to translate it into optimal org design scenarios to place the right people in the right place and retain your key talent.
References:
Engaging in Succession Planning
Succession Planning vs Replacement Planning | Sigma Assessment Systems
Succession management vs. succession planning: which should you do? | Oliver Group
Succession Planning vs Replacement Planning | Sigma Assessment Systems
Succession Planning - Human Resources Insights | Gartner
HR Guide: Managing Talent and Succession Planning Using the 9-Box Talent Grid
Proven tools for identifying and developing your organization's talent pipeline | Cornerstone
7 steps to building a succession plan for success
The holy grail of effective leadership succession planning
Succession Planning & Management (Advanced Step-by-Step Guide)
Deloitte + PWC: Why Do 86% of Companies Fail at Succession Planning?
Succession planning: What is the cost of doing it poorly...or not at all
Proven tools for identifying and developing your organization's talent pipeline | Cornerstone